The river's clay becomes music: an example of unique craftsmanship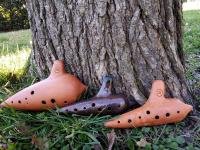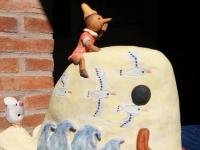 ❝Clay, carried by the river and worked by humans, can become toys, art and music. On the island of Ariano a family has become the custodian of a centuries-old tradition linked to local craftsmanship, that of the "ocarinas": curious terracotta musical instruments of various shapes and colours. These "globular flutes" have an ancient origin framed by myths and legends related to the four fundamental elements: air, water, earth and fire.❞
The inhabitants of the Delta have demonstrated, over the centuries, that they have a very close relationship with the river and this quality has also found expression in local craftsmanship. Indeed, until a few decades ago, the children and adults of the Delta often worked the "tivaro", the dialectal name for clay, creating objects to be used as toys or as furnishings and, in their utmost artistic expression, as musical instruments. In line with this custom, the skilled hands of the artisans brought to life the so-called "ocarinas" (in the local dialect "ocarina" means any instrument that is made of terracotta and can be played), in the shape of owls, ducks, gulls or fictional characters. The creation of these objects is closely linked to the four elements: the earth, the raw material used to create them; the water needed to shape the clay; fire, essential for baking; and the air, without which the wind instrument would have no life.
On the island of Ariano, a territory that is bound by the main branches of the Po, lives a family that has become a veritable institution in the Delta area: they have worked clay for almost a century, creating ocarinas and whistles with curious shapes - actual terracotta "jewels". In the 1980s and 1990s the Fecchio family's passion intensified, until, in March 2010, coinciding with the 100th birthday of the founder, Mr. Idelmo, a first museum-collection was founded, with the aim of gathering the multiple objects shaped by working the clay and preserved over the years as family heirlooms.
Thanks to funding from the Veneto Regional Park Authority of the Po Delta, a multidisciplinary educational and musical itinerary was created, with display cases and information panels: the Museo dell'Ocarina del Po (Po Ocarina Museum). To complete the itinerary, for those who wish to, it is possible to take part in a hands-on laboratory, guided step-by-step by the passion of signor Benvenuto, who now welcomes anyone who wants to create their own "work of art" with the clays from Italy's largest river.