The history of the complete land reclamation of the Delta told through a colossal early 20th century water-drainage pump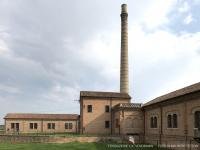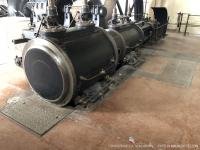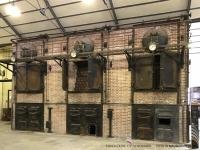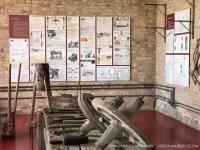 ❝Between the wide meanders made by the branches of the Po, there is the imposing Ca' Vendramin water-drainage pump, with its unmistakable chimney on top. It is the largest drainage plant of the Delta, the main player of mechanized land reclamation in the early 20th century. It is a stupendous site of industrial archaeology and takes the visitor on a real journey through time, discovering the radical transformation of the territory. ❞
The Land Reclamation Museum is located in the former water-drainage plant of Ca' Vendramin, which was abandoned in the late 1960s. The museum illustrates the land reclamation activity through the draining of marshes to render these areas habitable (though in continuous balance between land and water) while allowing the economic development of the Delta.
Construction of this gigantic drainage plant, one of the largest and most powerful in existence at the time, began in 1900 and ended in 1903, while testing was completed in 1905. in order to optimize the complete reclamation of the land, the territory of the island of Ariano was divided into two basins: the upper basin and the lower basin. The function of the Ca' Vendramin plant was to move the waters of the entire upper basin and feed them into the Veneto canal, or into the emissary, which in turn conveyed them near the mouth of the Po di Goro and then, through a system of lock gates, which took all the excess water flow into the sea.
Inside the lifting system, four pumps were installed that were able to lift a total of 11,000 litres per second, using steam engines driven by coal combustion. The drainage pump was designed while considering a difference in height between the water surface of the inlet channel and the outflow of 1,128 meters in ordinary tide conditions (a height difference that could reach 1,705 meters in rough sea conditions).
In 1921 the plant was partially converted to electric power, while a turbine fed two small drainage pumps located about five kilometres from the main building, to begin to drain the lower basin and thus to complete, with much more powerful means, the work of land reclamation in the Delta.
The Ca' Vendramin drainage plant was in use until the disastrous floods of the Po di Goro in 1957 and 1960 with which, due to the phenomenon of subsidence and the landing sinking, transformed totally the hydraulic regime of the territory, meaning that the colossal and imposing drainage pump was rendered useless.
map
How to Get There
By train: Ca' Vendramin is situated about 18,5 km from Loreo station (railway line Adria-Chioggia), with good cycle-rail interchange facilities.
By car: from SS309 Romea follow the signs to Porto Tolle along SP38, then turn into Via Veneto in Taglio di Po, reaching the water-drainage plant.
information
Opening times for visitors:
Fondazione Ca' Vendramin
Where to eat:
we suggest Ristorante Pizzeria Il Covo (Via Borgo Molo 5, Porto Tolle; tel. 0426 81860) and Ristorante Pizzeria Il Faro (Via Brunetti 41, Porto Tolle; tel. 0426 88014).
Where to stay:
we recommend Agriturismo Ca' Vendramin and Albergo Ristò Italia.
Tours and bike & boat rental:
for bike and horse trips and boat tours please refer to the website of Parco Delta del Po.

In the environs