An ancient navigation basin that has been rewilded and transformed into a marshy area of great naturalistic value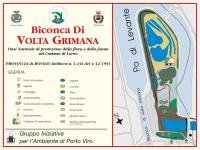 ❝Volta Grimana, an area of great natural importance, can be found near historic waterways. It is a valuable wetland arising from the gradual and spontaneous reforestation of an old lock. The oasis, now a popular area for birdwatching enthusiasts, can be reached by using accessible walkways that wind between the water and the thick vegetation, testimony to the forests that once covered large areas of the Delta.❞
The Volta Grimana Oasis is near an important hydraulic and trading node, near the Po-Brondolo waterway, which connects the Po river with the Venetian Lagoon. The wetland extends to the old navigation basin that was built in the early 20th century and which, together with the nearby warehouse, constitutes a fascinating example of industrial archaeology. The basin, which worked with a system of locks, allowed boats to overcome a considerable difference in the height of the water and was conceived at a time when the "liquid roads" that ran along the Po Valley for the purposes of trade still played a crucial role, before being abandoned in favour of rail and road transport.
The oasis, established in 1991, is 11 hectares and consists of freshwater ponds that are about 2 metres deep and are surrounded by abundant arboreal vegetation. The area, where important events are held to raise awareness about the environment, such as the "festa della liberazione dei rapaci" (Festival of the Liberation of Birds of Prey, April 25th of each year), has interesting routes to be undertaken both on foot and by bicycle. Indeed, it is an area that is of particular significance due to its forest and wildlife.
The vegetation on the banks is characterized by tree and shrub species (willow, common dogwood and elderberry), while the non-humid part of the area is generally characterized by meadow and locusts. On the banks of the basin there are plants that prefer the presence of fresh water and that add bright colours to the environment, such as the purple loosestrife with its lilac flowers or the yellow iris with its unmistakable colour. Floating plants, such as the frogbit, with its romantic white flowers, recall the water landscapes painted and immortalized by the French painter Monet.
The oasis is the ideal habitat for various species of animals such as mammals (weasel, beech marten, fox), amphibians (common water frog, European green toad, great crested newt) and reptiles, such as the western green lizard and the European pond terrapin. There are also numerous species of birds that attract many enthusiasts here: the great spotted woodpecker, the Eurasian golden oriole, the Eurasian jay, the marsh warbler, the great reed warbler, Cetti's warbler and the streaked fantail warbler, the coot, the water rail, herons (the purple heron, the squacco heron and the black-crowned night heron). There are also species that are more difficult to observe such as the Eurasian bittern, a true master of mimicry, and the little bittern. In winter, marsh grasses and shrubs also provide shelter for other types of birds, such as sparrows, finches of various species and thrushes, which in turn attract birds of prey such as the owl, the buzzard and the sparrowhawk.