The ancient coastal landscapes reflected in a dense coastal forest and unique biodiversity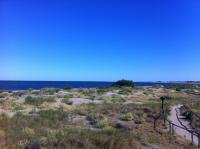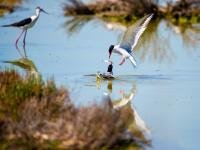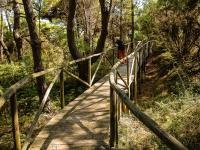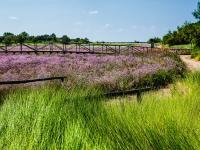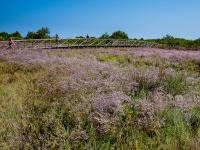 ❝A stone's throw from the sea, in the locality of Porto Caleri, is the Coastal Botanical Garden: a fascinating journey immersed in the silence and scents of ancient nature. The itinerary winds through the coastal dunes, the dense pine forest and the inner part of the lagoon. It is a fascinating journey for scholars, as well as for visitors, young and old, interested in learning about the evolution of natural coastal environments and surprising biodiversity.❞
The Coastal Botanical Garden, which can be visited on foot along accessible wooden walkways, has been created with the aim of preserving a unique natural environment throughout the Delta: authentic testimony to the vegetation that is typical of the coastal and marine environment of the upper Adriatic, and of its evolution to modern times. The Botanical Garden was built by the Veneto Region in 1990 in an area designated as a Site of Community Importance (SIC) and is part of the territory of the Veneto Regional Park of the Po Delta. There is a plurality of eco-systems in its 24 hectares of extension: there are 220 plant species coexisting between the pine forest, the dune cordon of the coast and the wetland zone of inland salt waters.
In the Garden, where the environment is intact and uncontaminated by human action, various rare native species are protected, including wild orchids, which, unfortunately, have almost completely disappeared in other areas of the Delta. It is interesting to note the presence of both internal stable dunes (that is, no longer subject to the action of the wind), and of embryonic and moving dunes (in a perennial state of transformation along this precious stretch of coast).
Inside the Garden there are three circular itineraries that can be completed at one after the other. The first, 600 metres long, only goes into the wooded area. The second, 1650 metres long, presents the evolution of vegetation from the coast to the internal dunes. Along this path you will come across rare flowers like European searocket, shore bindweed and orchids. The third path, 2850 metres long, allows you to explore junipers, dog roses and salicornia and through all the various ecosystems present: the pine forest, the sands, the Mediterranean scrub, the wetlands. In addition to the discovery of rare and beautiful plant species along the routes, it is also possible to observe the interesting birdlife that shelters in the Garden, with egrets, herons, terns, gulls, ducks and marsh harriers. Visits are recommended for both adults and children to learn about specimens that are difficult to spot elsewhere. Do not forget your camera to take photos of the spectacular blooms of late spring, the wild landscape and the ancient charm of the bush. And a beach towel, to relax in silence on a pristine beach.