The two monumental protective guardians of Padua's medieval navigable canals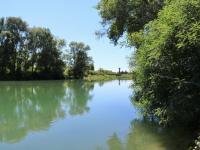 ❝The shipping system of Padua was completed in 1314 with the building of a new waterway, the Brentella Canal, which served to guarantee the volume of water necessary for navigation and commerce. The two historical "guardians" and regulators of the water circuit are known as the Colmelloni of Limena, and today are immersed in an area that is perfect for sports activities. ❞
The artificial waterways system of Padua constitutes an articulate hydraulic reorganization of the territory which began during the medieval, continued throughout the Venetian period, and then right up to the modern works of regulation carried out in the nineteenth and twentieth centuries. The Brentella Canal is one of the most significant infrastructures from an historical point of view. Completed in 1314 to convey part of the turbulent waters of the Brenta into the Bacchiglione, it guaranteed a constant water supply for the shipping of Padua which was often disadvantaged upland due to the taking of water by the rival city, Vicenza. At Limena, where the waterway begins, the two imposing Colmelloni still stand out, like two guardians over the water. They are large hydraulic structures with barriers, which were erected to regulate the flow into the canal. Destroyed in 1509 during the war of the League of Cambrai, they were rebuilt in the eighteenth century with the exceptional architectural structure they conserve today: a wide arch which spans the two shores of the Brentella, overtopped by a service area on one floor. The Brentella Canal, created for the supply of water, saw the expansion of commercial navigation over the centuries that went on intensely until the first half of the twentieth century. This historical waterway is still an important green corridor on the steps of Padua, where leisure and sports activities may be practiced, both on light craft such as canoes and kayaks, and on larger boats which take visitors on excursions. The natural reserve of Tavello extends along the Brenta cycle track, which passes close to the Colmelloni. This is an area of special environmental significance, equipped with nature itineraries and an educational wood.
map
How to Get There
By train: the site is situated 9 km. from Padova station and 6 km. from the station of Vigodarzere (Padova-Cittadella-Castelfranco Veneto railway line), with good cycle-rail interchange facilities.
By car: Motorway A4 (Torino-Trieste) exit at "Padova Ovest", then follow signs to Limena town centre. Free parking near the site.
information
Where to eat: we suggest the "Pizzeria Mason", very near the Locks, situated in the centre of Limena (Via Roma 87, Limena; tel. 049 8842254).
Where to stay: near the locks, where a historic inn has stood since the 16th century, is the "Hotel Valbrenta", which is well positioned near the Brentella Canal and has a restaurant.
Canoe and Kayak tours: Canoa Club Padova Limena
In the environs